Royal Copenhagen Rundskuedag Vases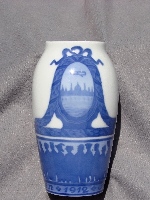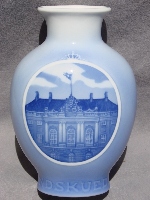 Rundskuedag is a Danish folk holiday during which everyone does things backwards or upside down. I have heard it translated as "Upside Down Day" but I often think of it as "Skewed 'Round Day" (a transliteration of Rund-skue-dag). Typically, bosses join the workers and one of the workers becomes the boss, and everybody has a good time doing things differently for one day of the year. Street entertainment is prevalent, and special events and sales are held to raise money for charity. Royal Copenhagen issued this series of vases as souvenirs of the day, with the proceeds going to charity. (Anyone with Danish ancestry who would like to expand or correct this description, please contact me!)
The first Rundskuedagen vase was produced in 1910, and they continued every year through at least 1942. They were made in many shapes and sizes, often with a scene of a Copenhagen landmark on the vase, and always with the inscription RUNDSKUEDAG (or RUNDSKUEDAGEN) and the date. The designs are first molded into vase, and then handpainted, mostly in cobalt blue, in the same manner as Christmas plates. Some years are highlighted with additional colors.
All vases listed here are FIRST QUALITY (no scratch through the trademark) and in EXCELLENT CONDITION (no chips, cracks, or repairs). However, like many of the low-cost souvenir items produced by Royal Copenhagen during this period, there may be an ocasional black speck (cinder) or other minor defect. Like the Christmas plates, these were not prestige items at the time, and were not held to the same rigorous standards as their top of the line dinnerware, figurines, or artware.
You can click on any picture to ENLARGE it and to get additional Information about the vase, including the size and a picture of the back of the vase. Use the BACK button to return to this page.
As of January 2010, I have only 3 in stock: 1912. 1920 (marked 1910 - 1920; to indicate the tenth year in the series?) and 1933. These Rundskuedagen vases come and go; please inquire if interested.
Royal Copenhagen RUNDSKUEDAGEN Vases


1912 $75


1915 Sold


1916 Sold


1917 Sold


1918 Sold


1919 Sold


1920 (Jubilee?) $75


1921 Sold


1922 Sold


1923 Sold


1924 Sold


1925 Sold


1926 Sold


1927 Sold


1928 Sold


1929 Sold


1930 Sold


1931 Sold


1932 Sold


1933 $50


1934 Sold


1935 Sold


1936 Sold


1937 Sold


1938 Sold


1939 Sold


1940 Sold


1941 Sold
E-mail me at stan@tillotson.com or Return to Stan's Porcelain Home Page