Royal Copenhagen Silhouette Royalty Plaques
Christian IX, King of Denmark 1863-1906, was known as the Father (or Grandfather) of Europe. His eldest son succeeded him to the thrown in 1906 to become King Frederik VIII of Denmark. When Greece decided to restore their monarchy in 1863, Christian IX's second son Prince Vilhelm was selected to become King Georgios I of Greece. In 1905, Norway was granted independence from Sweden, and Frederik VIII' second son (Christian IX's grandson) Carl became King Haakon VII of Norway. Christian IX's eldest daughter Alexandra married King Edward VII of Great Britain, and their oldest son (Christian IX's grandson) became King George V. Christian IX's younger daughter Dagmar married Czar Alexander III of Russia; her oldest son (also Christian IX's grandson) became Czar Nicholas II, the last ruling monarch of Russia. George V and Nicholas II were cousins because their mothers were sisters -- both being the daughters of Christian IX. Queen Elizabeth II of Great Britain and her husband (Prince Philip of Greece) are distant cousins, both being descendents of King Christian IX.
To honor the death of Christian IX in 1906, Royal Copenhagen issued a special oval plaque bearing his silhouette, with both gold and colored decoration, topped by the Danish crown, and showing the dates of his reign: 1863 to 1906. Matching plaques were made for his wife Queen Louise, and the plaques were usually sold in pairs. The Queen Louise plaques show the dates of her reign, beginning in 1863 and ending with her death in 1898 (giving the appearance that the plaques were made in 1898, although they were actually produced in 1906). A total of 496 such plaques were made for Christian IX and another 496 plaques for Queen Louise, with five different styles of decoration (approximately 100 of each style, although it is not known if they were made in equal numbers).
Another of Christian IX's sons was Prince Valdemar, who married Princess Marie d'Orleans. Princess Marie was immensely popular, in part because of her charitable works. When she died in 1909 at the relatively young age of 44, a similar plaque was made for her. Over the next twenty years, at least 14 more events were commemorated with these Royal Copenhagen silhouette plaques, mostly made in very limited editions -- usually fewer than 50.
All plaques are approximately 5 inches high by 3 inches wide. All are FIRST QUALITY (no scratch through the trademark) and in EXCELLENT CONDITION (no chips, cracks or repairs). In some cases, under close examination, there may be very minor surface scratches or minor wear to the paint or gilding on the high points, but not enough to detract from the beauty of the plaque.
As of April 23, 2022 the only plaque I have in stock in S-11 Empress Dagmar, priced at $300. It was made on the occasion of her 80th birthday 1947-1927. She was visiting family in Denmark at the time of the Russian revolution and therefore avoided the fate of the rest of the Russian royal family.
Click on any picture to see a larger image. Use the BACK button to return to this page.
The following plaque is done on the same blank and is in a similar style, but I don't know what it commemorates. Any suggestions would be appreciated!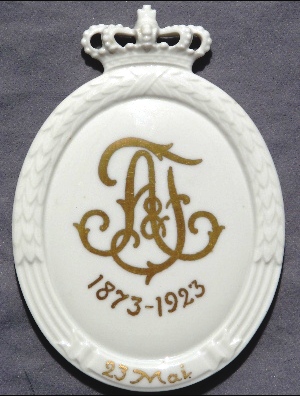 E-mail me at stan@tillotson.com or Return to Stan's Porcelain Home Page
PLEASE include your shipping address (home or work) in your FIRST email. I cannot confirm the final price of any item until I know where it is being sent.