Royal Copenhagen Figurine Series:
EMOTIONS by Andy Li
The Elements of Love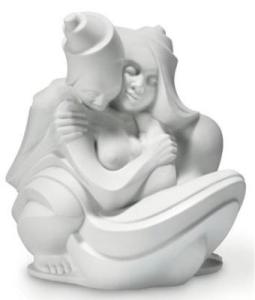 1249-403 Passion 15.5 cm (6.25")
EMOTIONS is a series of figurines illustrating four elements of a love affair: Joy, Passion, Tenderness and Longing. They were created by artist Andy Li in a beautiful, clear and almost economical style that is underlined by the white bisque porcelain without either glaze or painted decoration.
First produced in 2006, there were available to US Distributors by special order only, and were discontinued in 2008. I ordered several sets when they were available, but now have only LONGING in stock; Royal Copenhagen is sold out of the entire series, and no more will be produced. These are large figurines: LONGING is nearly 10 inches tall (25 cm). MSRP (List Price) was $195 for each figurine; I sell LONGING at nearly a 50% discount = $100 each (2 in stock). Click on any photo for a larger view; use the BACK button to return to this page.
E-mail me at stan@tillotson.com or Return to Stan's Porcelain Home Page
PLEASE include your shipping address (home or work) in your FIRST email; I cannot confirm the final price of any item until I know where it is being sent. Click here for additional information, including shipping charges and payment methods.