WEDGWOOD Jasperware
Wedgwood is perhaps MOST famous for its Jasperware. "Jasperware" refers to the "body" or type of clay used to make the item; other "clay bodies" include basalts, bone china, and earthenware (or "Queensware"). The original intent was to make ceramic articles that looked like cameos cut from layered stone, where the image in relief is one color, set against a background of a different color. This type of cameo relief is achieved by tediously carving away the top layer of stone to expose the lower layer of stone (of a different color), leaving just the desired design in relief. Wedgwood sought to achieve a similar effect by molding the relief design in one color of clay, and applying the design to the surface of an object made from a different color clay. The most common color combination is a white relief design applied to a medium blue ("Wedgwood Blue") object.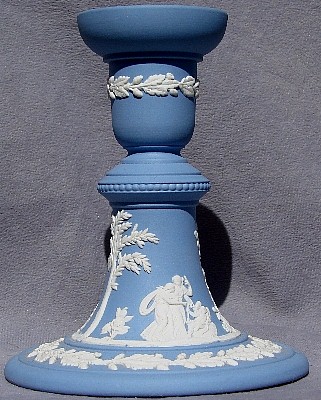 In most cases, the applied deign is done in a lighter color and the underlying object is a darker color, but darker reliefs can be applied to lighter colored objects. This is referred to as "reverse color" jasperware.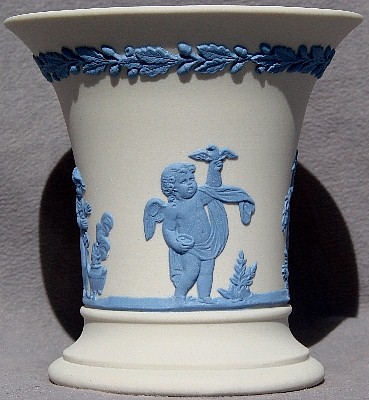 Most of the relief designs imitate classical Greek and Roman styles and themes, reflecting the popular enthusiasm for such designs at the time that Josiah Wedgwood developed his jasperware clays and techniques (late 18th century). In addition to colors, most items can be identified as having one of a limited number of shapes (you will see the same shapes in different colors below), and can further be identified by the subect matter of the relief decoloration. The "reverse color" item above is a "Posy Pot" (shape) with decorations representing the "Four Seasons", with Spring (cherub with bird & bird's nest) most prominent, and Winter (cherub huddled over fire) just visible on the left. Summer (cherub with flower garland) is to the right, and Fall (creub with harvest sickle) is on the back, so all Fours Seasons progress continuously aroud the vase.
In most cases, only two colors are used. But sometimes, the relief decoration is done in TWO different colors in ADDITION to the color of the underlaying object. This is referred to as "three color" or "tri-color" jasperware. Even rarer are pieces done in four or five colors. As far as I know, five is the maximum number of colors that Wedgwood has used in making a single jasperware item.
All items are in excellent condition.
Click on any photo to see a larger image.

| | | |
| --- | --- | --- |
| | | |
| Three Color Tray 4.4" $35 | Texas 1836-1986 $15 | Collectors' Society $20 |
| | | |
| Black & White Box $100 | Black Vase 4.8" $75 | Black & White Tray $25 |
| | | |
| WWCS 5" Bowl $250 | Black & White Tray $25 | Cherub Cameo 3" $100 |
| | | |
| Blue & White 8" Bowl $85 | Candlestick 4.75" $100 | Josiah Wedgwood $45 |
| | | |
| Reverse Color Vase 5" $65 | Candlestick 4.75" $125 | Reverse Color 5.25" $50 |
| | | |
| Reverse Color Box 3" $65 | Posy Pot 3.75" $55 | Pink Posy Pot 3.75" $65 |
Many more items to come. Please bookmark this page and check back in a few days.
E-mail me at stan@tillotson.com or Return to Stan's Porcelain Home Page
PLEASE include your UPS shipping address (home or work; no P.O. Boxes) in your FIRST email; I cannot confirm the final price of any item until I know where it is being sent. Click here for additional information, including shipping charges and payment methods.